I just left Stavra at the curb in front of her house. As she got out of the car she told me to write more in this blog, that she wanted to read more. I said I was working on an article now and that it would be about cookies. As I pulled away, I realized that the cookie article would have to wait a few more days. I simply must tell you about the feast we had tonight.
I have heard a lot about sushi. I have even had one or two pieces of what was said to be sushi, but I hadn't had sushi, real sushi, good sushi, until tonight. I happened to have the evenings off this week between Christmas and New Years so planned dinner with friends for each night. Thursday was sushi with Stavra, Dan and Lenny. Stavra and Dan had started tasting sushi here in town a few years ago. During dinner, Stavra began telling Lenny and I how it started for her. Dan chimed in, saying he had had similar experiences. Both started with supermarket sushi. Let's face it. We live in the middle, no oceans anywhere nearby, not even a decent fish monger in town. It's hard to get a nice piece of fresh fish here. Stavra said that her first bite of sushi was strange, it was a weird flavor. She knew somewhere inside her that she should like it, but maybe something wasn't quite right. She tried again later, this time at a sushi place, and realized then and there that the supermarket sushi had been bad sushi, that there is a world of difference between what you get in the deli case and what you get when you sit in front of a sushi chef, preparing fresh for you your hearts desire.
We are sitting at a table at
Wasabi
sipping hot tea, chatting and waiting for our sushi. Dan and Lenny had come for the all-you-can-eat, attempting to put the sushi chef to the test. Stavra had in mind a few favorites of hers that she wanted to have again. I had looked at the menu online earlier in the day. I thought I was having pork with a fruit sauce and maybe, just maybe, a piece of sushi. I am very finicky about fish and have reserved my fish meals to only when I'm on a coast. Earlier in the day I believed it was going to be hard to convince me to try a full meal of sushi. What do I know? Stavra and I are looking at the picture menu laying on the table, trying to decide. There was a picture of the pork dish. Once I saw it I struck that from my order. I started looking at the noodle dishes. Stavra had recommended the udon and the yaki soba looked good too, but still, those just didn't sound right to me that night. I had been looking at the sushi. Was I ready to try something so different from what I am used to? Was I prepared to take the plunge, go all out? Screw it, I'm going to order sushi and nothing but.
Stavra started us off with appetizers of Shumai, shrimp dumplings that looked like small opening flower buds, and Tempura. Both were delicious. The dumplings were delicate and sweet with a lovely texture, soft and chewy. The tempura was light and crisp, just as it should be. Since Dan and Lenny were ordering for the all-you-can-eat, they had a rainbow of sushi literally landing in front of them throughout the evening. Dan ordered the Rainbow roll.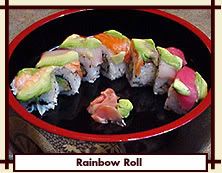 And it was a beautiful thing to see. All the colors laid out in rice, fish and veggies. I was beginning to appreciate the subtle beauty and charm of sushi. Our boat was next on the table. I had ordered the Clayton roll and the Shogun. Stavra chose the Yellowtail and the Spider. The Spider had tempura shrimp in one tail end that actually looked like a menacing spider. The Yellowtail was small and delicate. It had a sweet fish flavor that I had not experienced anywhere but near the ocean. It was perfect. I began on the Clayton roll. On my first bite I was shocked and surprised and completely hooked. The Clayton roll is tempura batter with spicy mayo and masago rolled in rice, then a very nice thin piece of tuna, peppered and quickly seared, laid over the top. The pepper and the spicy mayo gave the whole roll a smoky quality, warm but not overly spiced. The tuna was perfect, seared on the outermost edge, then rare to raw getting closer to the rice. That first bite was one of the most interesting mouthfuls of delicious that I had ever tasted. It was a masterpiece of flavor and texture that I will not soon forget.
I went on to try the Shogun roll. Deep fried lobster salad, tobiko, asparagus, cucumber and avocado served with sweet wasabi soy broth, wrapped in rice then nori and all done in tempura, quick and light. I hadn't had nori before this. It reminded me of a mouthful of sea water that I accidentally took in while swimming in the Atlantic as a kid. It was salty, although not overly so, slick and textured. I closed my eyes for a second and could see my grandmother waving from up the beach and could hear the gulls crying. Then the flavors of the lobster, tobiko and asparagus began to move to the front. It was mild and crunchy, sweet and salty, the perfect blend of flavors and textures. While it didn't take me by surprise as the other had, it did win its place in my mouth, its subtlety moving across my tongue and into my sense, slowly stirring my mind with pleasure. After the first few tastes, I dug in with the heartiest of appetites so pleased with my newest discovery.
We ate and talked, laughed and watched as Dan and Lenny continued through the list of nigiri and maki sushi still attempting to eat their fill. This was a fabulous feast. Surrounded by good friends, glorious food and steeped in culture, I had an experience that I will treasure for the rest of my days.